1. Log into the admin screen and go to the products tab. Then select the "Discounts" sub category.
2. Press "Add" to add a new discount.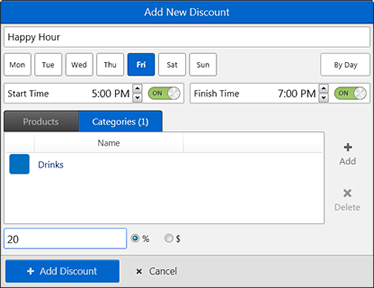 3. Select the days you want to enable the happy hour discount, and also select the hours. Press "By Day" to switch to "By Date" to select a specific date. Ensure that the start time and finish time are switched on and set correctly.
4. Add the products or product categories (everything in that product category will be discounted) you wish to discount.
5. Enter in the amount you wish to discount the products by and press "Add Discount".